R.W 'Curly'' Hall
Member since 1998
Vice President
Horses: Sparky and J. Diamond
Curly was born in New York City in Jamaica, Queens. He got hooked on horses at about the age of 8, when his parents took him riding. At the age of 11, he spent his free time shining shoes so he could earn enough money to pay for rides on weekends in Forest Hills. He has since had a very successful career in construction. Through his business he has been actively involved in community projects with groups, such as the United Black Man, the AWA and UNCA. As a pillar of his community, he did not always have time to tend to his love of horses. He managed to periodically ride with his children, but it wasn't until a friend took him to see Jessie "Captain" Lee Wise, a construction associate of Curly's, that he was finally able to indulge his desire to be associated with horses. Curly's cowboy dreams came true when he rode into the rodeo arena at Temple State University in 1999. He also realized a second dream when he and Lenard "Professor" Hebert went to Mexico to herd cattle in 2002.
James 'Mayfield' Johnson


Member since 2003
Horses: Blue
Mayfield was born in South Carolina, 1948. One day Mayfield came across the Big Barn and liked what he saw. He decided to buy himself a horse despite the fact that he didn't know how to ride it. His riding abilities were off to a bumpy start and he almost gave it up. But he kept on riding, and eventually got the hang of it. He has been riding ever since. Mayfield credits all the cowboys for his success and for looking out for him. He is known as Mayfield because he physically resembles the singer, Curtis Mayfield.
Clarence' Solo' Clemons



Member since 1998
Business Secretary, Board of Directors, Co Founder & Coordinator of the Junior Federation Division, Web-site Executive Producer
Horses: Razor, Dr.BoBo, Zen
Solo was born in Louisville, Kentucky to parents of Cherokee and African decent. His grandparents were tobacco sharecroppers from Sharpsburg, Kentucky and they introduced Solo to horses at a very young age. Solo worked at his Uncle Rev Lucian Hyatt's horse stable in Louisville most summers. After graduating from Woodward High School in Cincinnati, OH, he attended Tennessee State University in Nashville where he took up the country and western look and cowboy lifestyle. A jack of many trades, Solo has lived all over the United States. He finally found his way to New York City in 1997 to work as a union electrician Local 25. He met Vern & Little Red at various stables in Long Island. He stumbled upon the Federation while they were looking for a venue to maintain a cowboy lifestyle. Solo trains horses, team ropes in rodeos, and shows his reining horse Zen "Top Sail Shot". He is presently opening the Muddy Water Riding Academy in Cincinnati, OH. His biggest influences are his Uncle Lucian, Haile Selassie, and Bob Marley.
Earl"Wash" Washington


Member since 2003
Cowboy Wash was born in Harnett, North Carolina, on October 14th, 1950. Before he learned about the Federation of Black cowboys, his favorite Western riders were Roy Rogers and Gene Autry. He met Dr. D while on a trail ride and soon became a member of the Federation. Since joining up, he has been influenced mostly by Dr. D and by the cooperation he continues to experience from all the cowboys. After he retired from UPS, he began working at the post office. When he is not working, his priorities are the museum and trail riding with Taco
LeVern" Vern" Johnson



Member since 2000
Treasurer
Horses: Duke
Vern was born in Brooklyn in 1952. At the age of 9, on the 4th of July, Vern's father took him to Prospect Park and he has been riding ever since. He learned about the Federation when he was looking for a place to ride. All the cowboys made fun of him when he showed up wearing his English riding attire. Since then his style has changed, but his love of riding hasn't. Vern earned a degree in animal husbandry specializing in the care of horses from the State University of New York. His biggest influence is his mustang horse, Duke, who keeps him going.
Shawn" Big sexy" Adams

Jessie"Captain Lee" Wise



Member since 1994
Horses: Playboy and Beauty
Grounds Keeper, Sergeant of Arms
Captain was born and raised on a cattle farm in Virginia in 1940. In 1959 he moved to New York City seeking better work opportunities than Virginia had to offer. He carved out a career operating heavy machinery and he has been working in the field for 40 years. Getting involved with the Federation of Black Cowboys and being around horses again made Captain feel like he was right at home. In his free time he helps keep order at the Federation's meetings and he helps Marshall take care of the grounds at Cedar Lane stables. He has many heroes, but his biggest influences are the old-time cowboys of his family that he grew up with. His father Tom Wise and his father's cousin, Moses Wise, cemented in Captain his cowboy heritage.
Don" Cowboy for Christ" Rouse

Member since 2000
Treasurer of the Museum
Horse: Preacher
Cowboy For Christ was born in Brooklyn on January 30th, 1954. As a kid, he always loved horses and by 1975 he was 100% cowboy. He worked in the Air Force for 16 years as a loadmaster, and then moved on to become a New York corrections officer. He obtained his name while involved in a ministry on a job for Corrections Officers for Christ. Now retired, he can devote much of time to teaching the history of the forgotten black cowboys of the west to the Kids at the Federation. He admires the Buffalo Soldiers and Bass Reeves, Nat Love, Isam Dart, Jesse Stahl and Stage Coach Mary. Cowboy For Christ's biggest influence is the Lord and lives by Philippians 4:13, "I can do all things through Christ, who strengthens me".
Wiley Horne

Member since 1994
Horses: Peppy
Wiley was born a cowboy in Mississippi where his parents were corn and cotton sharecroppers. His father always had horses and mules around the farm. Wiley learned how to ride and how to care for horses because his family relied on them to get around town and to help with the farming. In 1970, with his sister by his side, he decided to move to New York City to look for work and to better his life. He has since become a successful crane engineer and plans to retire soon. He got involved with the Federation of Black Cowboys when his friend, James Poties, suggested he come by and meet the cowboys. He has been involved ever since and was also one of the founding members of the Federation. His father was a big influence in his life and he is in the process of passing on the family's cowboy tradition to his son.
Lenard" Professor" Hebert

Member since 2001
Spokesperson
Horses: Willow
Professor was born in Chicago in 1949. Growing up, cowboys were the heroes of his generation. He admired Lash Larue, Roy Rogers and the characters that Clint Eastwood and John Wayne played. His first experience with horses began in 1960 when he would make eight dollars shining shoes and take his earnings across the street to the stables in Prospect Park to go riding. As he got older and did more research, Professor learned about the historical facts of Black cowboys and the Wild West. Knowing Black cowboys existed and finding out about Nat Love, Bill Pickett, and James Beckwourth, as well as the roles of African Americans in the settlement of the West has empowered him. One of the main reasons he joined the Federation was to ensure that the untold history of Black cowboys is passed on to today's children. As an advocate for social change he is the CEO of the Reality House substance abuse treatment program.
James JR (1) Rogers


Member since 1994
Horses: Blue Eyes, Mike, Coco
JR was born a cowboy to sharecroppers in Arlington, Tennessee, in 1939. He always liked animals and his parents always had horses on the farm. His father got him his first pony at the age of 7 and he has been riding ever since. He moved to New York City with his parents in 1949. He eventually became a NYC police officer in 1964 and he retired in 1984. In his free time he helps out at Cedar Lane stables with rodeos, parades, barn tours for the kids and by promoting education. He is also a member of the South Queen Homing Pigeons Club and has, in his care, about 100 pigeons that he races and shows annually. Bill Pickett and Nat Love are some of his heroes. His biggest influence was his grandson, Tony Reid, a natural athlete who loved horses and nature and passed away before his time.
Ronald" Cowboy" Wright

Member since 1994
Horses: Taco and Papi Chullo
Doctor D was born in Valdosta, Georgia in 1942. He has been a cowboy since he was 13 years old when he would break Shetland ponies in Georgia for a man by the name of Tom Hewitt. He moved to New York in 1967 because he had trouble finding work in Georgia after returning from the Vietnam War. Doctor D works for the board of education as a bus driver for handicapped children and plans to continue working with kids after he retires. At the ranch he sets out to inspire kids to do the best they can in school and he performs a skit he calls "The Drive By" for barn tours. Doctor D has passed on his cowboy traditions to his son Miguel. He counts Ben Miller as his biggest influence. Bill Pickett, Nat Love, Bill Robertson and Stage Coach Mary are his heroes.
Miguel "Mickey" Dominguez




Eric " Little Red "Jackson



Member since 1999
Horses: Sunny Boy
Little Red was born in 1963 in New Jersey and raised in Augusta, Georgia since the age of 3. On weekends he would head out to visit his aunts and uncles in the country were he developed his love of horses. He got his cowboy name when he moved back to New York with a Southern accent and red hair. Little Red went through his teenage years getting into trouble and eventually developed a drinking problem. In 1996, he joined a program to get better and soon decided to follow his dream of working with horses. His love of horses has taught him honesty and respect, and he feels he owes his sobriety to them. Among his heroes stand Uncle Ben Miller and R. Wright Cowboy, who taught him patience with horses.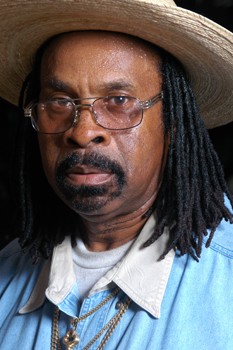 Arthur JR 11 Fulmore




Member since 1998

JR was born in Lumberton North Carolina and lived on a farm with pigs, dogs, goats and horses. It was on the farm that he grew to love horses. At the age of seven, while riding home from town on a horse and wagon with his brother, his horse kicked back and hit JR in the leg. The kicking horse gravely injured JR and he still bears a scar from the horse's impact. Instead of developing a fear of horses, he developed a curiosity and love for them. His unpleasant experience only made him want to know more about horses. JR now owns thirteen horses, one of which is a winning racehorse. He got involved with the Federation of Black Cowboys to pass on the legacy and the history of Black Cowboys to younger generations, to share ideas about training horses with fellow cowboys and to be part of positive community activities.




Roger Cowboys kid Roy" Cowan


Member since 2002
Horses: Mighty Mouse

Cowboy Kid Roy was born in 1954 on a big farm in Anderson, South Carolina. He was raised by his big brother, Leroy Cowan, and has been cowboying all his life. Everyday after school he watched the Lone Ranger at 3 o'clock. At the time, he didn't know Black cowboys existed, even though being a cowboy was in his blood. As a teenager in South Carolina, he worked cattle on the ranch owned by Merrill Lynch. He moved to New York to work as an operator engineer and began to drift away from his cowboy roots. 10 years later he joined up with the Federation of Black Cowboys after he saw some members in a Harlem parade. His heroes include his big brother, his father, Roy, and Stage Coach Mary, Bill Pickett, and The Lone Ranger.





Sonny "The Painter 'Drayton


Ellis" mountain man' Harris


Member since 1996
Chuckwagon Cook
Mountain Man was born and raised on a cattle farm in Amelia County, Virginia, in 1937. By the age of 15, he was branding, birthing, milking and herding cattle all day, seven days a week. He was a young, competent cowboy, but he felt that the long hours and low wages would not be enough to keep him on the ranch. At 19, he decided to enroll in the military's Airborne Division. When he was asked to shine his helmet he set out to make it sparkle. For a whole day he sanded down the rough and worn surface of his helmet, and to the dismay of his officers, his helmet gleamed in the light, making him a noticeable target to any enemy! He was punished for his efforts for a fortnight, and realized, like a true cowboy, he had his own way of doing things. He found his way to New York City in the 1970's and under the guidance of George Williams, he got involved with the Harlem Rodeo. He went on to become an accomplished steer wrestler and won the event at the Black World Rodeo Championship in 1984. Since then, he has mastered the art of chuckwagon cooking using the instruments and techniques of the Old West. His biggest influence is John Wayne because of his attitude and his inclination to do things his own way.
Willie 'Jack" Dunne

Member since 1994
Horses: Sporty
Willie was born in Clinton Louisiana on December 1st, 1938. He grew up as a sharecropper's son and there were very few aspects of daily life on the farm that did not involve horses. One of his biggest influences was his Grandfather, Alex Evans, who raised him and taught him all about horsemanship. Willie credits his riding skills to Munroe Nelson, a plantation cowboy and trail hand adept at breaking wild horses. It was from Munroe Nelson's great pool of knowledge that Willie learned a horse will always find its way home. In 1991, while watching Good Morning America, he spotted Jessie "Captain" Lee Wise with all his horses on the television. He immediately jumped up, got dressed and rushed out to meet him and Willie has been with Federation ever since.
Joan Best

Heather Bradley

Wendy Karim

Marquise Jammott

Leah McCall

Charles Kennedy AKA Rev

Michael "whispering bull" Davis

Khayr Pitts

Gloria C Moore

Ramel Meynard

DECEASED MEMBERS




Uncle Ben" Tex" Miller







AL " the arkansas kid" Stewart






Lenny Holmes



Al McIver